Return to Headlines
U-46 Transportation Department to be Honored with 'Accent on Achievement'
Oct. 21, 2019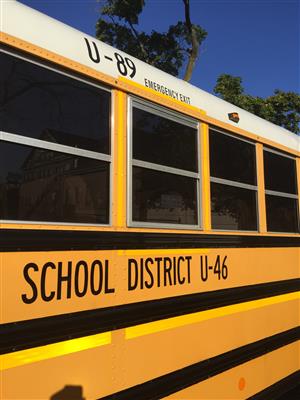 School District U-46's Transportation Department will be recognized with an "Accent on Achievement" during Monday night's Board of Education meeting as part of National School Bus Safety Week.
U-46 buses are a critical link between home and 57 schools and programs for nearly 27,000 students across 11 communities served by the District. The size of the District's student transportation program ranks in the top 5 percent of programs in the country.
"I am extremely proud of the work the Transportation team does each day to ensure that our students' journeys to and from school are safe, secure, and comfortable," said U-46 CEO Tony Sanders. "Our bus drivers, dispatchers, route managers, office staff, fleet maintenance crew, routers, and assistants work closely together to get this important job done.'"
U-46 owns about 350 buses, which make about 5,100 stops each day and log about 4.5 million miles a year, said U-46 Director of Transportation Jeffrey Prowell.
"The U-46 Transportation Department does a great job of safely transporting thousands of students," said Prowell. "I am very grateful for all the hard work, skill, and commitment demonstrated by the department's employees."
Distracted driving by other drivers texting or talking on phones is one of the most common threats to school bus safety, Prowell said. He says he's seen an increase in the number of buses being rear-ended during his 20-year career.
To bring awareness to the importance of school bus safety, the U-46 Transportation Department encourages the public to remember:
Anytime there's a school bus on the road, realize that children are most likely nearby and take extra care – leave a lot of space around the bus.

When the bus turns on its yellow flashing lights, this means it is about to stop and pick up or drop off students. Slow down and prepare to stop.

When the bus turns on its red flashing lights and extends its stop arm, this means stop in both directions. This means there are children getting on or off the bus. Never pass a school bus with red flashing lights in either direction. (The only exception in Illinois is when the driver is on a highway with four or more lanes with at least two lanes of traffic in either direction. If the driver is going in the opposite direction of the bus, the driver does not have to stop.)

The most dangerous part of a school bus trip for students is actually the bus stop. Students, especially young children, are at risk of being injured or killed when motorists don't stop for the flashing red lights and extended bus arm.

Remind students who ride a bus to always look to the right before they exit. Also let them know if they drop an item while exiting or entering the bus, they should never pick it up. Instead, ask the driver and follow his/her instructions.
Prowell will at Monday's Board meeting to accept the "Accent on Achievement" certificate for the Transportation department at 7 p.m. in room 140 at the Educational Services Center.